(The Center Square) – Pro-Hamas supporters vandalized a Texas congresswoman's office in a south Texas border community that is still grappling with unprecedented numbers of illegal border crossers.
The McAllen, Texas, office of newly elected U.S. Rep. Monica De La Cruz, R-Texas, was vandalized twice by pro-Hamas activists after the congresswoman has been vocal expressing her ongoing support for Israel.
The attacks occurred on Nov. 7 and Nov. 9 and are under investigation by the McAllen Police Department.
Nov. 9 was the 85th anniversary of Kristallnacht, "the night of broken glass," when Nazi Party officials, Hitler Youth and others committed a "wave of violent anti-Jewish pogroms throughout Greater Germany," destroying hundreds of synagogues, and looting "more than 7,000 Jewish-owned businesses and other commercial establishments," according to the U.S. Holocaust Memorial Museum. Shattered glass from store windows littered the streets after the violence; nearly 100 Jewish Germans were killed. What followed was the advancement of German laws and decrees to deprive Jews of their property and ability to earn a living, persecution, forced removal to ghettos and eventually concentration camps.
De La Cruz published photos of the vandalism in social media posts, saying she was attacked "because even though South Texas has a small but vibrant Jewish community, I have been a vocal ally of our Jewish brothers and sisters in light of the worst massacre of Jews since the Holocaust."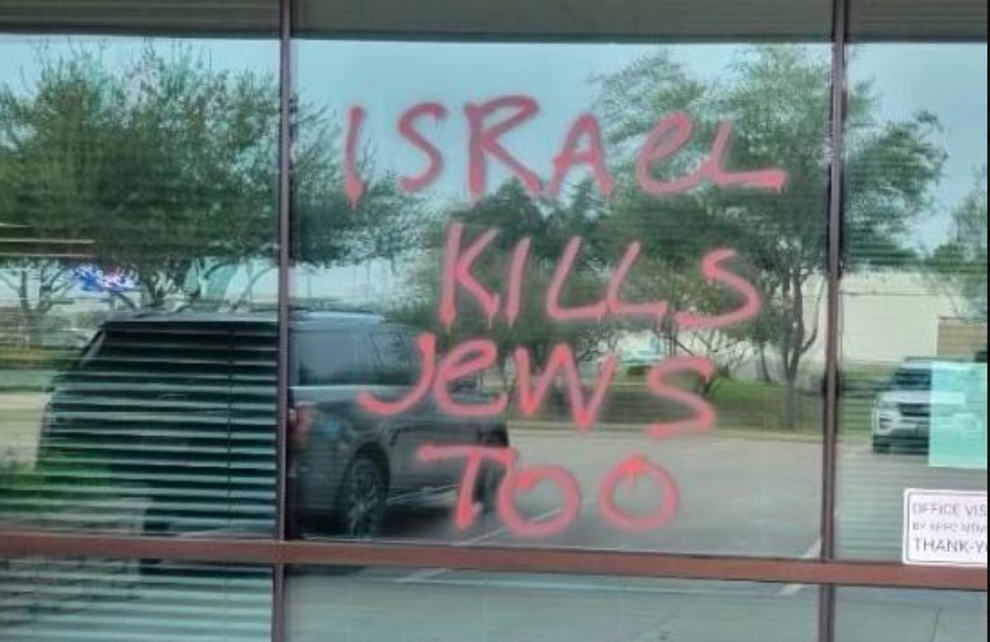 Vandalism included messages spray painted in red paint on her office windows and on the sidewalk outside of her office. Some of the messages state, "Israel kills Jews too," "Monica murders," and "You can't escape your crimes Monica."
In response, she said: "Let me be crystal clear: These acts of vandalism will never intimidate me, silence me, or stop me from opposing antisemitism and supporting Israel's right to defend itself."
De La Cruz has expressed support for Israel after the Hamas Oct. 7 terrorist attacks, which let to the murders of more than 1,400 people. More than 240 people were taken hostage, including Americans.
After the terrorist attack, Gov. Greg Abbott announced several resources available to support Jewish residents in Texas and also visited Israel to meet with its leaders and survivors of the attack.
Del La Cruz said her office is in contact with local authorities and she personally contacted rabbis in her community "to offer them my full support."
In a press release about the incident, she said, "On October 7th, Iranian-backed Hamas terrorists murdered over 1,000 innocent civilians, including many Americans, in the single largest massacre of Jews since the Holocaust. These savages burned babies in an oven, decapitated toddlers in front of their families, tortured parents before their children, and continue to hold hundreds of hostages.
"The pro-Hamas activists who have vandalized my office may disregard the importance of standing with our Jewish brothers and sisters during their darkest hour, but I do not. My support for Israel and the Jewish community is, always has been, and always will be unwavering. I make no apologies for standing firmly against anti-Semitism. These vandals will not intimidate or silence me."
The vandalism occurred after a poll found that nearly 60% of American Muslims surveyed say Hamas "was justified in attacking Israel as part of their struggle for a Palestinian state."
Hamas, the acronym for Harakat al-Muqawama al-Islamiya (Islamic Resistance Movement), was designated by the U.S. State Department as a foreign terrorist organization in 1997. "It is the largest and most capable militant group in the Palestinian territories and one of the territories' two major political parties," according to the National Counterterrorism Center.
Hamas' founding charter, the 1988 Hamas Covenant of the Islamic Resistance Movement, preamble states, "Israel will exist and will continue to exist until Islam will obliterate it, just as it obliterated others before it." Article 13 of the covenant states, "There is no solution for the Palestinian question except through Jihad," referring to Islamic holy war.